Personal Finance and Money
You've landed on this page, more than likely, because:
You're struggling and need answers NOW!
You're scraping by and need security
You're doing okay, but know you could do better
You're incredibly wealthy and just curious about what we have to say
Or, your finger slipped and you clicked here accidentally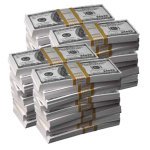 No matter which – welcome all!
We've divided this page into four sub-categories. Feel free to go immediately to the category/description which best describes your situation. In each you will find bountiful information to guide and assist you.
We wish you all the best! And remember - regardless of your situation - others have been there before. Many are there now.
After all - Who else could've provided us such valuable insight, inspiration, and information regarding personal finance - except those that have been there before?

"I'm at the bottom, see no light, and need a lifeline."
"I'm sinking and sinking fast. HELP!"
"I'm okay. Help the others first. But I could use some sound advice."
Pecuniarities: Creative Frugal Living and Personal Finance
Money saving tips for everyday life. Topics include money management, personal development, home decoration, recipes, hobbies, holidays and more.
"I'm frickin rich and don't need nuttin!"