Colonel Sanders
By Maggie L. Jones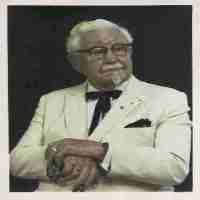 At the age of 6, Harland Sanders knew early on that he was built out of determination. After suffering one of the biggest tragedies in his life, the loss of his father, he realized that he had to step up and take care of the family, while his mother went into the workplace. Harland's duties included most of the household chores, and the daily cooking. Because of this, he became accomplished in preparing many of the regional dishes at a very young age.

After a wide variety of jobs and careers spanning the next 30 years, he pondered his next career while working as the attendant at a gas station. He always loved cooking and, while working at the gas station, overheard several of his customers remark how they wished there was a quick way to grab a bite while they were putting gas in their car. It was then, that Harland came up with a plan. Though he didn't have a space for an actual restaurant at the gas station, it did provide him his own humble living quarters. It was here that he fed those weary travelers, his now famous recipes. Shortly thereafter, he started what was called, "Sunday dinner, 7 days a week". This was provided to busy individuals that just didn't have the time to prepare and enjoy a home cooked meal with their family. They could take these meals home with them and not have to prepare a thing. Harland grew confident about his particular dish, fried chicken. He devoted his time and energy in perfecting his 11 herbs and spices recipe, and its cooking method. Within 10 years, at the very young age of 75, he had 600 KFC franchises.
You are never too old to pursue your dreams!
There's no reason to be the richest man in the cemetery. You can't do any business from there." - Colonel Sanders
By: Maggie L. Jones
More Motivational Articles
Dr. Suess - Oh the Places You'll Go
Dr. Suess was rejected over 28 times for his first book . . .

Walt Disney - Visionary
Bankrupt and fired for having "no creativity", Disney became a household name for kids and adults alike.

Einstein in a Nutshell
Einstein was not always known for his genius. His brilliance did not clearly surface until he failed many times.

Colonel Sanders - 11 Herbs and Spices
Cooking since he was 6, Colonel Sanders did not open his 1st KFC until he was 65 years old, but had 600 franchises by age 75.

Ray Kroc– Over 50 Billion Hamburgers Sold!
From a humble salesman to pioneer of franchising and founder of the most successful fast-food franchise ever.

THOMAS EDISON – The Wizard of Menlo Park
More than a few blunders + 1000 failed attempts inventing the lightbulb = The most prominent inventor of our time.
Positive Mental Attitude
Thoughts on maintaining a positive mental attitude.
NEVER QUIT - EVER!
A run down (just a paragraph each) on some of the most famous individual's starts and finishes. Learn from some of the most successful and accomplished leaders of today who faced incredible challenges, unbelievable odds, and failure after failure.