Thomas Edison
The Wizard of Menlo Park
By: Maggie L. Jones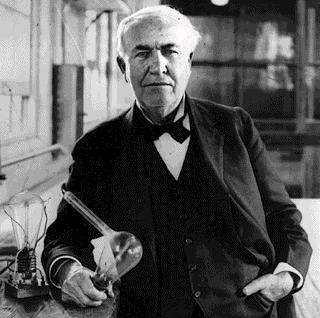 There isn't much that hasn't been written about Thomas Edison. But he wasn't always considered to be a brilliant man. In fact, it was quite the contrary. Early on, at age 7, when the family moved to Michigan from Ohio, he spent 12 weeks in a noisy one-room schoolhouse with 38 other students. His teacher made no secret of his belief that the hyperactive child's brains were "addled", or scrambled and that Tom's forehead was too broad and his head was unusually large for his body. Hearing this, Tom's devoted mother removed him from school and did her best to teach him at home, on occasion with the help of tutors. It was difficult to appease his curiosity for knowledge, but she was convinced that her son's unusual behavior and physical appearance was simply a sign of his remarkable intelligence.

Suffering scarlet fever at an early age, and a couple of run-ins with a train conductor, (his science experiment caught one of the railcars on fire) Thomas Edison eventually became totally deaf in his left ear and 80% in his right. This, however, did not deter him from inventing some of the world's most amazing things. Additionally, he assisted Alexander Graham Bell in the perfecting of long distance telephony, the first reciprocating telephone and the magneto phone. All of this extra-curricular inventing, however, almost got him fired from Western Union, for "not concentrating on his primary responsibilities and doing too much moonlighting".
Still traveling down the path of invention, Thomas Edison would attempt over 1000 times to perfect the original electric light bulb. Finally settling with carbon filament, he produced the first commercially practical incandescent light. All in all, he obtained 1093 patents for his inventions.
It is noted that in 1929, 2 years prior to Edison's death, his very close friend, Henry Ford, completed the task of moving Edison's Menlo Park laboratory to the Greenfield Village museum in Dearborn, Michigan, preserving it for the world to cherish. Though not considered a flawless man with his hearing impairment and lack of formal education, his desire to serve mankind by fulfilling the promise of research and inventions, made him the true force behind shaping modern civilization.
Genius is one percent inspiration and 99 percent perspiration. - Thomas Edison
By: Maggie L. Jones
More Motivational Articles
Dr. Suess - Oh the Places You'll Go
Dr. Suess was rejected over 28 times for his first book . . .

Walt Disney - Visionary
Bankrupt and fired for having "no creativity", Disney became a household name for kids and adults alike.

Einstein in a Nutshell
Einstein was not always known for his genius. His brilliance did not clearly surface until he failed many times.

Colonel Sanders - 11 Herbs and Spices
Cooking since he was 6, Col. Sanders did not open his 1st KFC until he was 65 years old, but had 600 franchises by age 75.

Ray Kroc– Over 50 Billion Hamburgers Sold!
From a humble salesman to pioneer of franchising and founder of the most successful fast-food franchise ever.

THOMAS EDISON – The Wizard of Menlo Park
More than a few blunders + 1000 failed attempts inventing the lightbulb = The most prominent inventor of our time.
Positive Mental Attitude
Thoughts on maintaining a positive mental attitude.
NEVER QUIT - EVER!
A run down (just a paragraph each) on some of the most famous individual's starts and finishes. Learn from some of the most successful and accomplished leaders of today who faced incredible challenges, unbelievable odds, and failure after failure.