Ray Kroc
By: Maggie L. Jones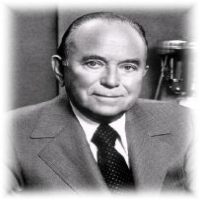 Raymond Albert Kroc, not a household name, but an important one, nonetheless. Everyone, however, knows the name McDonalds and what it stands for. Kroc's youth was spent refining his salesmanship skills, first allowing him to be an ambulance driver for the Red Cross (though underage), then selling a variety of goods, including paper cups. This is where he met Earl Prince. Prince had invented the five-spindle multi-mixer. Impressed with this machine, Kroc convinced Prince to give him exclusive marketing rights, thus allowing him to successfully sell it all over the country for the next 15 years.
During his travels, he approached one of his biggest customers of the multi-mixer, the McDonald brothers, who owned a restaurant in California. After meeting with the brothers several times and discussing the possible expansion of their business, he finally determined that they were not interested in making any changes. His persistence paid off, however, when he was finally able to convince the brothers to make him their exclusive marketing agent. In 1954, at the age of 52, Ray Kroc opened his first McDonald's drive-in in Des Plaines, Illinois. This was the beginning of the McDonald's Corporation.
Suffering from diabetes, arthritis and having his gall bladder and thyroid gland removed, Kroc only increased his desire to succeed. In one of the greatest acts of salesmanship of all time, he purchased the McDonald's Corporation from the brothers for a mere $2.7 million dollars, in 1961. He immediately started recruiting franchisees and saturated the American market. Then, turning his attention to overseas, he opened restaurants in more than 65 countries, tailoring each one to its cultural needs.
Turning the operation of McDonald's corporation over to Fred Turner in 1968, Kroc devoted his attention to monitoring the businesses of the new franchisees. During his travels, Kroc would insist that his chauffer drive him to at least 6 franchises so he could pop in and do surprise check-ups. Ray Kroc would remain active in the business until he passed away at age 82, just ten months before the McDonald's Corporation would sell its fifty billionth hamburger.
By 1987, McDonalds had sold 65 billion hamburgers and had opened its ten thousandth store. Corporations to this day follow his inventive strategies and remember the saying, "The organization cannot trust the individual; the individual must trust the organization."
By: Maggie L. Jones
More Motivational Articles
Dr. Suess - Oh the Places You'll Go
Dr. Suess was rejected over 28 times for his first book . . .

Walt Disney - Visionary
Bankrupt and fired for having "no creativity", Disney became a household name for kids and adults alike.

Einstein in a Nutshell
Einstein was not always known for his genius. His brilliance did not clearly surface until he failed many times.

Colonel Sanders - 11 Herbs and Spices
Cooking since he was 6, Col. Sanders did not open his 1st KFC until he was 65 years old, but had 600 franchises by age 75.

Ray Kroc– Over 50 Billion Hamburgers Sold!
From a humble salesman to pioneer of franchising and founder of the most successful fast-food franchise ever.

THOMAS EDISON – The Wizard of Menlo Park
More than a few blunders + 1000 failed attempts inventing the lightbulb = The most prominent inventor of our time.
Positive Mental Attitude
Thoughts on maintaining a positive mental attitude.
NEVER QUIT - EVER!
A run down (just a paragraph each) on some of the most famous individual's starts and finishes. Learn from some of the most successful and accomplished leaders of today who faced incredible challenges, unbelievable odds, and failure after failure.